How We Increased this Ecommerce Fashion Brand's Organic Traffic by 27x and Helped Them Rank #1 for Their Main Keyword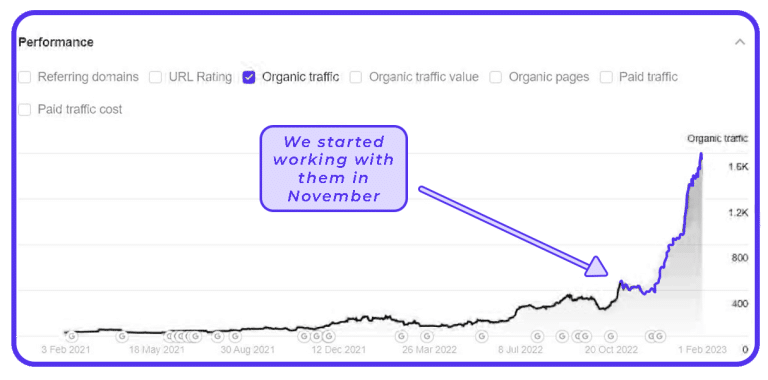 Overview
We approached this brand on LinkedIn because we saw some major potential with keywords for their exact products.
We talked to the owner and agreed to do some simple optimizations we felt would increase their rankings.
In less than 100 days, we helped this brand:
Rank #1 on Google for their main keyword
Increase organic traffic by 27x
Sell out their ENTIRE collection
Here's a step-by-step breakdown of exactly what we did so you can replicate this for your brand:

The Process
Keyword Research
We did some keyword research on his website, and we saw there were some keywords that he could rank for that we could help him with.
These keywords were getting a few thousand searches a month for his exact product.
How did we find these keywords?
We took time to understand his products and then looked for high shopping intent keywords people would use to find his products.
He had products on his website that were selling for $1,200 apiece.
We knew that if we helped him rank for the name of those products, he could rank on the first page pretty fast.
Optimize Collection Page
After the keyword research, we then optimized his collection page.
Getting potential customers on a collection page is essential.
You don't want them to land on a single product page.
They will click out if they can't find the exact product they're looking for.
That's why a collection page is crucial.
You can have a variety of products to help the customer find the exact product they need.
With this fashion brand, we wanted someone to search for vintage scarves and land on a page with a variety of them.
The problem with this brand was that they just weren't ranking.
So we changed the URL of his collection page to be the exact keyword we were going after.
Then we updated his H1 to include the main keyword.
And here comes the needle mover…
Content Creation
We wrote ~500 words of content for his collection page and added some code.
Why?
If you write a collection description on Shopify, it will show up before the product.
And 500 words before products would look horrible.
You can add some easy code to make that collection appear under the products.
That way, it's out of the customer's sight, but it's still in Google's sight…
Now let's get into the specifics of the content.
To start, this content was all bottom of the funnel.
Its purpose was to answer questions that people had right before buying.
So everything on the collection page is well-formatted, and very keyword-optimized content.
The beauty is that we're not only ranking for that one keyword, but we're also ranking for multiple related keywords that customers are searching for which all mean the same thing.
It not only allows our client to rank for more keywords, but it gives them more authority in the eyes of Google because of all the other products that they sell.
The reason a collection description is important is that when Google looks at a page full of product images, Google doesn't fully understand that.
It's the words describing the products that Google really listens to.
If you miss the collection description, Google doesn't know what it's looking at.
So the key takeaway is to add a collection description to help Google identify the collection page and who it's for.
…and that's all we had to do.
We didn't even have to do work on backlinks because we were able to see from the competition that we didn't have to.
Results
After changing the URLs from their original collections traffic dipped for about 10 days.
After Google Indexed its new pages, traffic exploded.
Google reindexed the main collection we cared about.
So their page moved from #16 to #1 result on Google in 89 days for the main keyword that we went after.
Resulting in 1000+ visits for their desired keyword every month.

Here's the increase in organic traffic.
32 → 889 visitors a month…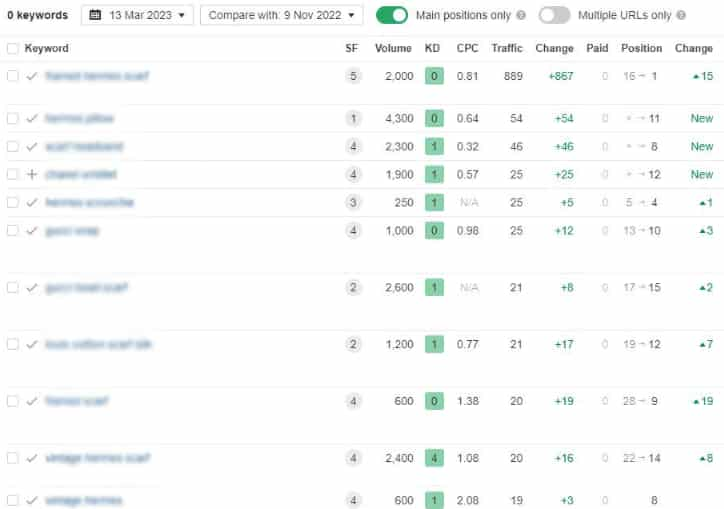 And to top it off, they ended up selling out their whole collection…
Are you interested in seeing what an seo campaign can do for your brand?
If you're ready to turn your website into a traffic generating asset, let's schedule a time to talk.